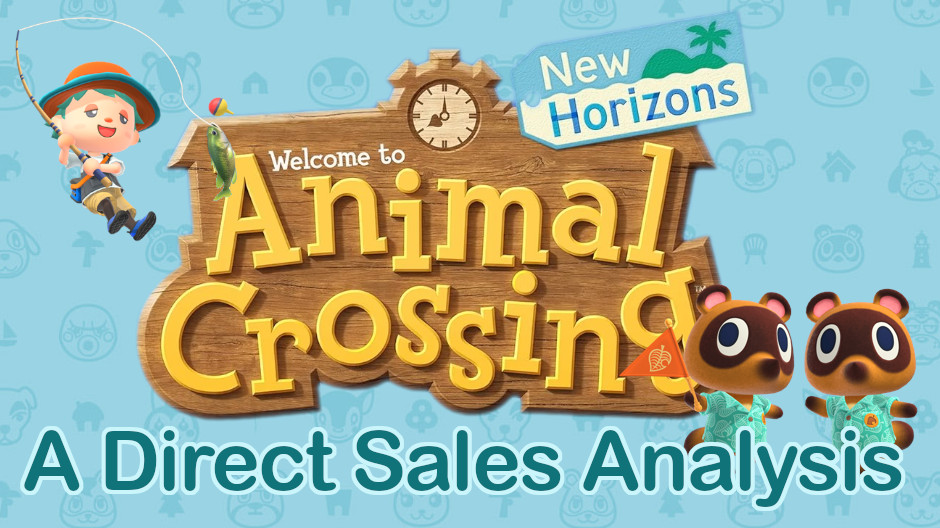 There's no denying that Animal Crossing: New Horizons has taken the world by storm at a time when people are both incredibly bored, and often socially isolated. As a result, the social simulation game has been a prevalent topic amongst gaming press and fans on every social media platform at their disposal. Twitter, Facebook, and even late night comedy shows have been abuzz about the title. This isn't just something occurring just in the West, however. This is a phenomenon that has been occurring worldwide.
Looking at the data, I wanted to see just how much Animal Crossing: New Horizons is selling and try to nail down how much it will sell when all is said and done. I'd like to add the disclaimer that the majority of this data will be skewed toward Japanese sales, both because I'm more familiar with historical sales in Japan and because they're the only major region to publish precise numbers for game releases.
Due to supply constraints resulting from the ongoing global health crisis impacting existing sales data, we must assume that any estimates or projections made here are a floor for what Animal Crossing: New Horizons will sell. In other words, this article is trying to nail down the minimum we can expect in lifetime sales for New Horizons. It appears almost certain that New Horizons will sell above any of my projections by some degree.
Japanese sales breaking pace
For Japanese sales trends, I'll be doing direct comparisons between New Horizons with both New Leaf (3DS) and Wild World (DS); the second and third best-selling entries in the franchise. To give us a better baseline of comparison, I've also included the two biggest Japanese evergreens on Switch (meaning games that have continued to sell well after launch), Splatoon 2 and Mario Kart 8 Deluxe.To provide additional contrast, I'll also be including one of the most evergreen titles of the last 15 years, Wii Sports.
Below, you'll see a chart comparing the first year of sales for the aforementioned titles on a week-by-week basis.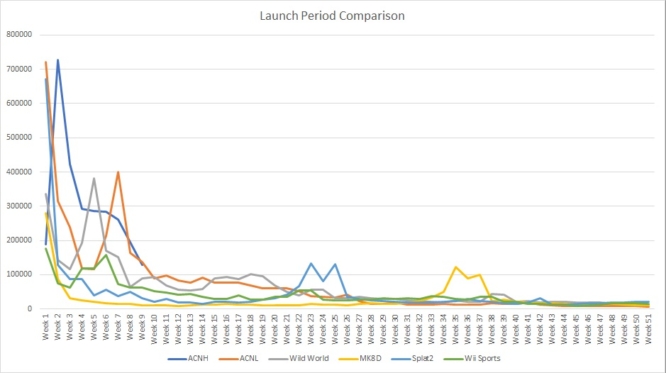 There are several things worth noting here. Wii Sports, Wild World, New Leaf, Splatoon 2, and Mario Kart 8 Deluxe all saw dramatic spikes in sales in the following weeks:
Week 3 for Wii Sports
Week 5 for Wild World
Week 7 for New Leaf
Week 22 for Splatoon 2
Week 34 for Mario Kart 8 Deluxe
Each of these sales spikes was driven by the Christmas/Holiday season and while New Horizons' opening weeks are certainly impressive, every week has been marked by a reported sell-through of 80-100%, meaning the title is selling out in most stores.
While we're seeing very impressive sales, with New Horizons being the best-selling game of the week ending May 17th, supply is still constrained. To put it simply, New Horizons is selling at near-holiday levels, despite the fact that not everyone who wants a physical copy can get one. It's also of no small importance that the Switch itself is facing similar supply constraints, last week having sold 27,875 units, and this week after a massive restock selling through 107,104 units.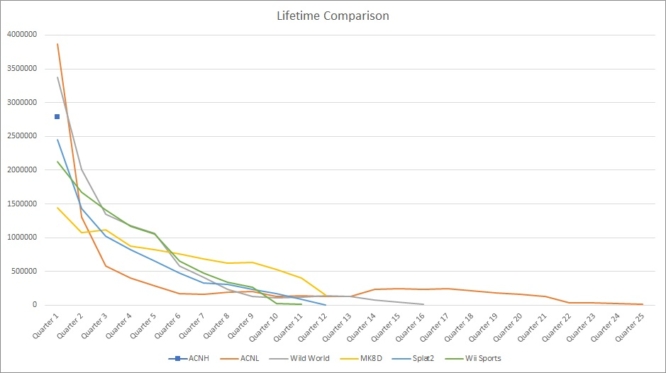 The graph above depicts the lifetime quarterly sales of the titles being compared in Japan. Famitsu only tracks the 30 best selling games each week, which is why you'll see games disappear fully from tracking as their sales settle. However, as you can see, the last mainline Animal Crossing, New Leaf, sold well for an exorbitant length of time, still appearing in the top 30 best-selling games of the week more than 6 years into its life.
So, how much can we expect New Horizons to sell throughout its lifetime? Taking Splatoon 2 as an example, its first 5 weeks saw 330 thousand units sold. By the time Splatoon 2 had reached 50 weeks, the title had sold 1.01 million units. New Horizons comparatively sold 2.2 million units in its first 5 weeks, so if it were to follow the same trend as Splatoon 2, come week 50, New Horizons will have sold roughly 3.3 times as many units in the same timeframe, totalling 4.55 million.
I've repeated this exercise below for each of the games I've been using as examples.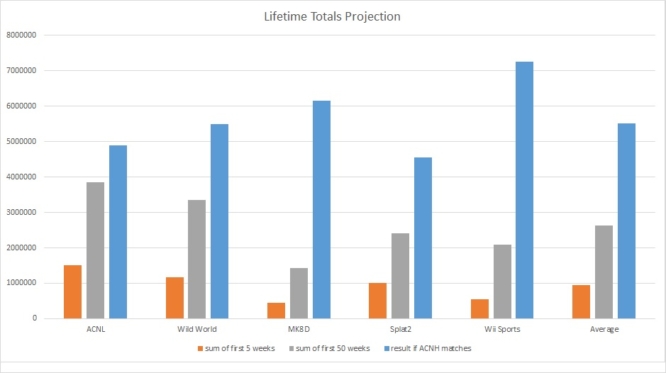 Looking at sales of each of these titles, we come to an average 50-week sell-through of 5.55 million units with projections reaching as high as 7.26 million if New Horizons keeps pace with Wii Sports.
To put these sales into perspective, according to Famitsu via Game Data Library, this would place New Horizons firmly in the top 6 best-selling games in Japan of all time across all platforms. If New Horizons were to sell the projected 7.26 million, it would claim the second place title from Super Mario Bros. at 6.18 million units and fall just a few thousand behind Pokémon Red/Green/Blue with 7.94 million units sold in its lifetime.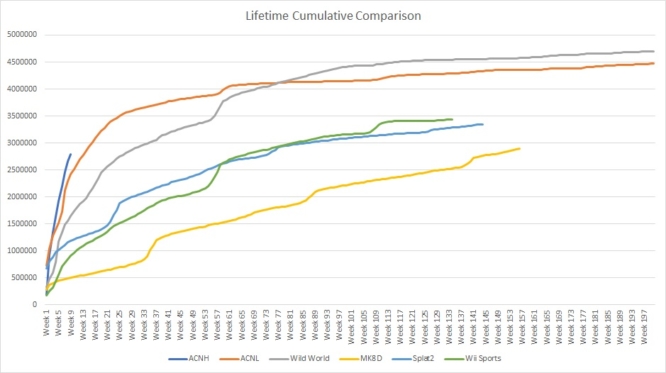 As a cherry on top, here's a cumulative sales graph between the example titles I've been using. Animal Crossing: New Horizons places as a clear frontrunner amongst these examples. To put it all in a few words, this game is flying off shelves and setting records in every direction.
Franchise growth in the West
According to NPD Group's data, in the US, Animal Crossing: New Horizons is the best selling game of its franchise as of 11 days after its launch in terms of dollar sales. The title also jumped straight into being the second best-selling game of 2020 so far, dwarfed only by Call of Duty: Modern Warfare.
New Horizons has also had the third-highest launch month for a Nintendo title in tracked US sales history, surpassed only by Super Smash Bros. Ultimate and Super Smash Bros. Brawl. This applies to both dollars earned and units sold.
The April NPD sales report also notes that New Horizons is the best selling Switch title in the US in the 12 month period ending April 2020, meaning it also outsold everything released in that timeframe.
As a result of the current global situation with COVID-19, and the release of this Animal Crossing shaped monolith, Switch's first quarter in the US surpassed the first quarter of any console platform since the Nintendo DS in 2010. Reflective of the situation in Japan, the US has also seen massive stock shortages countrywide.
While calling the UK a "major market" may be something of an overstatement, it can be used as a very loose barometer for Europe's general acceptance of a product. Since its release, Animal Crossing: New Horizons has dominated the sales charts in the UK, continuing to be the best-selling title in its 10th week at retail. GamesIndustry.biz reports the title to have even seen a 28% decrease in sales over its previous weeks with it still maintaining its number 1 listing. That said, this data only tells us it's selling well, not necessarily "how well", making it the least useful point of data in my analysis.
The digital divide and its implications on the bottom line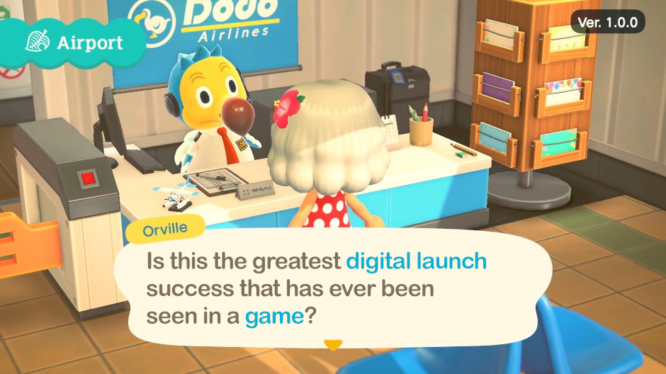 Every sale we've looked at thus far has been at retail, and unfortunately, Nintendo historically doesn't like to give numbers for digital sales. That said, unlike its predecessors, New Horizons released in a world where digital sales are a significant portion of overall units sold.
Superdata recently reported that Animal Crossing: New Horizons has sold an estimated 5 million units digitally since March, beating out their previous record holder for most sales in a month, 2018's Call of Duty: Black Ops 4. It's also worth calling out that this makes Animal Crossing: New Horizons the fastest-selling digital game of all time.
Nintendo later confirmed at their investors Q&A that Animal Crossing: New Horizons has averaged a 50% digital-physical split, meaning the real number was actually closer to 5.75 million sales digitally – significantly more than even these record-breaking estimates.
What this means for Nintendo, is that Animal Crossing: New Horizons has fewer costs in packaging and shipping than Animal Crossing: New Leaf. It's also worth noting that because New Horizons costs £49.99 whereas New Leaf retailed for £39.99, not only is Nintendo seeing a huge increase in sales for the franchise, but they're seeing a large increase in profitability per copy sold.
It's worth noting that Nintendo themselves said this ratio of digital to physical sales is unique and may have an impact on the market going forward. Nintendo believes this will translate over to other titles, as once users purchase one game digitally, they tend to repeat due to the convenience of having the title on their console at all times.
Bringing it all together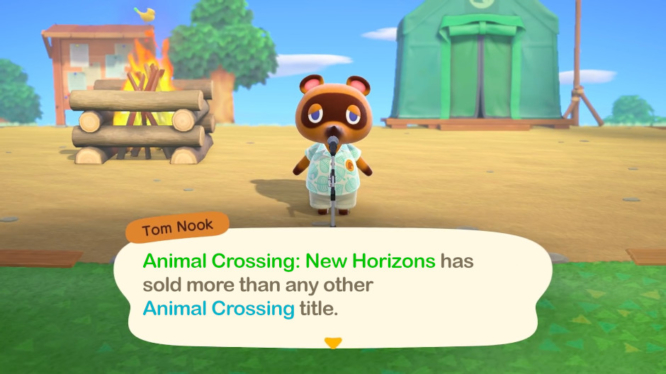 Nintendo recently reported their financial earnings for the fiscal year, including the first 11 days of Animal Crossing: New Horizons' sales, which stood at 11.44 million units. At the same time, they also revealed the first six weeks of sales to have totalled 13.41 million units. Software and hardware globally were met with shortages, and in part, the result is an estimation of digital sales falling in the 3.5 to 6.5 million range.
As a result of my research, an early draft of this article from before the report was released predicted that Nintendo would reveal 11 to 13.5 million units had been sold. As it turns out, I had managed to hit both these numbers approximately match the numbers Nintendo had reported.
I foresee Animal Crossing: New Horizons continuing to sell extremely well over its lifetime, even better than other Nintendo Switch evergreens. In the first month and a half of its life, the blockbuster outsold all of its predecessors, surpassing the previous series record-holder, New Leaf, by 0.86 million (6.8%) units. When you consider Nintendo's commitment to continuous updates, New Horizons will likely continue to draw new players at a more impressive rate than other Nintendo titles.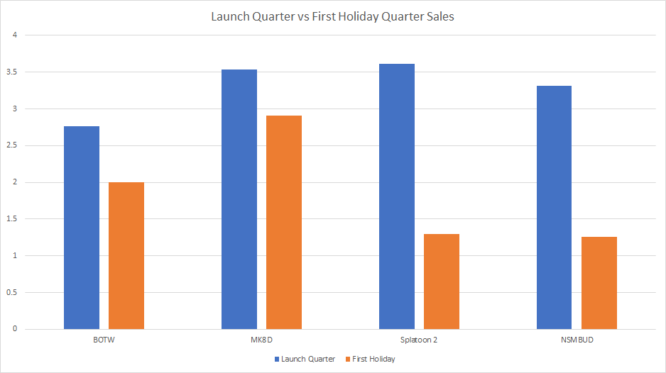 Comparing holiday quarters of our example titles, we can expect Animal Crossing: New Horizons to sell a minimum of 4.3 to 9.4 million units in its first holiday period. This will easily put the title in the range of 20 million units sold by the end of the holiday quarter ending December 31st, 2020.
Lifetime, Animal Crossing: New Horizons will certainly become one of the best-selling titles on Switch. Really though, at these staggering numbers, it's difficult to tell what the ceiling is for New Horizons. The magnitude of New Horizons will largely depend on the quality of Nintendo's continued support, which director Aya Kyogoku has already stated in a CNET interview would last two to three years.
It's also of note that every unit of New Horizons is by and far more profitable than New Leaf due to the higher price-point, coupled with the higher physical:digital ratio. The title also encourages sales of the Nintendo Switch hardware which, once available on store shelves again, will generate more software sales from other titles. This is the magic of the Switch era. Every single sale of hardware instigates further sales of the evergreen titles like Pokémon, Mario Kart 8 Deluxe, and now Animal Crossing: New Horizons. The family of software creates synergy within itself.
If Japanese sales numbers and patterns are anything to go by, we'll see the sales tail of this title be larger than anything we've seen from Nintendo since the Wii era. Based on the post-launch support already given, I'm hopeful that we'll see Animal Crossing: New Horizons break at least 30 million through its long lifetime of sales. Looking at the numbers, it seems almost certain that the game will continue to be a record-breaking title and even one of the best-selling titles in the history of video games in Japan.
With the Nintendo Switch era now having a reputation for releasing games that sell the best of their franchise ⁠— even boosting age-old franchises like The Legend of Zelda ⁠— perhaps we'll no longer look to the Wii era as a metric of success for Nintendo. Perhaps instead we'll be looking back at the Switch, with its explosive sales for all types of games, and its relevance in a more crowded modern market.
Only time will tell, but the future for Nintendo is exciting, and Animal Crossing: New Horizons and the Animal Crossing brand are going to be a very large part of it that future.