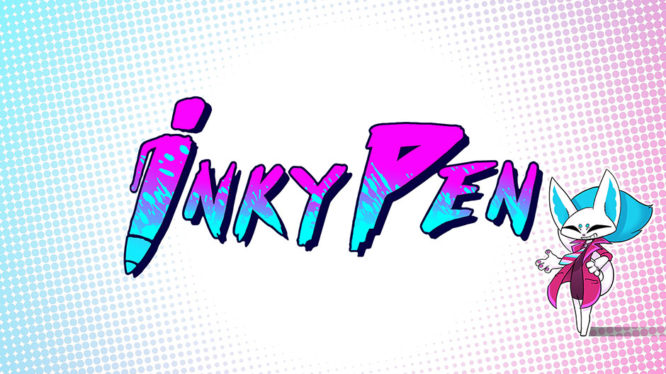 The Nintendo Switch is a fantastic platform for gaming. But, unlike competitive consoles from Sony and Microsoft, Nintendo's hybrid console doesn't have much to offer when it comes to other forms of entertainment. Aside from Hulu and YouTube, there are nearly no non-game applications on the Nintendo Switch.
That's why it came as a total surprise when the news broke earlier this year that InkyPen, a brand new subscription-based comic book reading app, was coming to Switch in 2018. Now that the app is available for Switch users around the world (and the fine folks at InkyPen were nice enough to send us a review code) LootPots' comic book expert is here to give you the scoop.
A Tale of Two Comics Readers
Let's not mince words, InkyPen's UI is brilliant. Menus are clean, well-designed and easy to navigate. Loading times are lightning-fast and it's easy to search or browse through InkyPen's library once you've adjusted a few settings (but more on that later).
The "My Comics" menu makes it easy to jump in and out of an ongoing series, pin books you might be interested in or download your library for internet-free reading.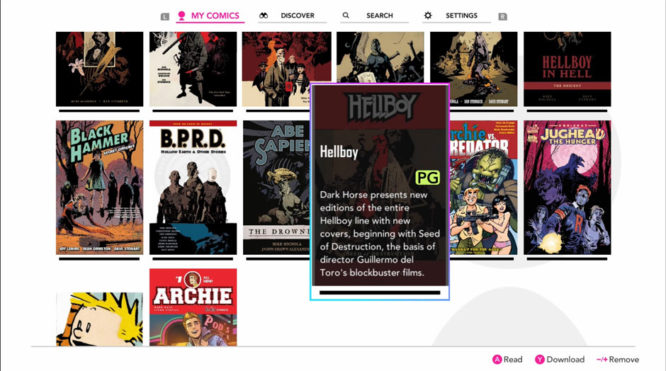 Given the Switch screen's natural dimensions, I had a hard time believing that the app's display would be able to compete with the experience of reading a digital comic on an iPad or comparable device. However, thanks to InkyPen's "Scroll Mode," reading comics on your Nintendo Switch is (mostly) a dream.
In Scroll Mode, the full width of the page matches up with the edges of the Switch's screen, allowing readers to scroll down the comic's page with any controller's sticks or by using the touchscreen while in handheld mode. Pages look crisp and clear, but smaller text and background details can sometimes be hard to make out. Thankfully the ability to quickly zoom in and out by pressing A is easy and intuitive.
Unfortunately, Scroll Mode isn't quite perfect. Any comic featuring a two-page spread requires you to switch to the default "Book Mode" (by pressing X) if you want to see it in one piece. Similarly, InkyPen's massive library of newspaper comic strips also suffers from a minor display issue in Scroll Mode where they appear at the top of the screen instead of being properly centred.
Aside from viewing a splash page or reading newspaper strips, Book Mode offered a far less user-friendly experience. Whereas most digital comic readers opt to show you one page at a time, Book Mode tries to present comics two pages at a time like an actual book. It's fine if you're reading on your TV, but Book Mode simply doesn't work on the Switch's screen. Trying to fit a two-page spread on the Switch's horizontally oriented screen is impossible and makes most text illegible unless you zoom in.
The problem is, even zooming is more frustrating in Book Mode. Instead of auto-zooming to the section of the page, it immediately centres you and forces you to glide around to find the details you were looking for. This issue is worsened by the mode's awkward control scheme which maps multiple functions to the L and R sticks, leading to the potential for input mistakes that simply don't exist in Scroll Mode.
The Library
No matter how good the UI is, a comic reader is only as good as its library. Luckily for InkyPen, they've got a rock-solid foundation to build upon; provided that you adjust the app's settings.
For some reason, InkyPen's default content settings are insanely restrictive and unless you navigate to the app's settings to change them on your own, you'll never know that you're missing out. Considering that the app has mature content not suitable for younger readers it completely makes sense to have some sort of age-gate in place, but it seems like a huge mistake to not inform your customers with an in-app notification.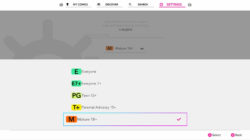 The weird thing is that the default settings censor out some pretty innocent content (like my all-time favourite comic strip Calvin and Hobbes), so it's doubly strange that the default settings are so strict. It's worth pointing out that the app crashed during my initial setup, so it is possible that the app would have informed me during some sort of introduction segment.
Once your content filter is set to 18+, InkyPen's library opens up to a surprising number of books from some of the biggest publishers in the industry. Fans of superhero books by Marvel and DC will be disappointed, but heavy hitters like Archie, Dark Horse and IDW have thrown their weight behind the app. Couple that with indie darlings like Axe Cop, a ton of classic comic strips and licensed comics from publishers like Titan and you've got the start of a killer library.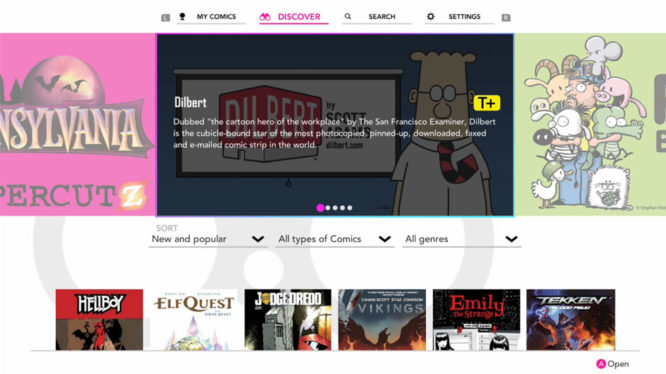 Aside from Marvel and DC, other notable omissions include the largest publisher of creator-owned books in America, Image Comics, and a serious lack of Manga. While there's no word on whether or nor Marvel, DC or Image will eventually add content to InkyPen's library, the team promises that more Manga is on the way.
Even without support from some of the biggest names in comics, InkyPen has a solid foundation with underground classics like Hellboy and Tank Girl to modern hits like Mark Waid's reboot of Archie universe. For a complete list of InkyPen's library, you can visit their website.
Bugs to Swallow
Even with a good UI and a solid library, InkyPen has a number of bugs to squash if it wants to compete with the likes of Amazon's ComiXology.
I mentioned earlier that the app crashed during the creation of my account, but that was far from the only issue I experienced while trying to sign up for InkyPen. I received multiple different error messages while trying to create an account before deciding to close the app and try again. I was then able to successfully set up my account, but when I was asked to proceed the app froze and I was forced to restart again.
Unfortunately, this problem wasn't just limited to setting up my account. I also experienced a number of issues while trying to read comics. While scrolling the reader would sometimes skip me back a page on infinite loop, flicker between pages that were near the beginning or end of an issue, or fail to load a page entirely. Each time I was able to close the app and reload the comic without issue, but not without disrupting my reading experience.
Worth the money?
The big question, of course, is whether or not InkyPen is worth the monthly $7.99/€7.99 asking price? At present, the answer is a clear… maybe?
If their current offerings speak to you, there's a lot to dig in and enjoy as InkyPen expands their offerings. However, if your tastes skew toward mainstream American superhero comics or Manga and you're not interested in exploring the libraries of Archie Comics, IDW, Dark Horse, Valiant and more, you might want to explore other options.
Personally, I'm looking forward to the rest of my trial run with InkyPen and will be watching closely to see how the platform progresses. Given that InkyPen is currently only on Version 1.0 there are a lot of unanswered questions and a ton of opportunity for growth. I'm confident that with user feedback InkyPen will sort out their technical issues sooner than later, but how and when they'll expand their library of content remains unclear.