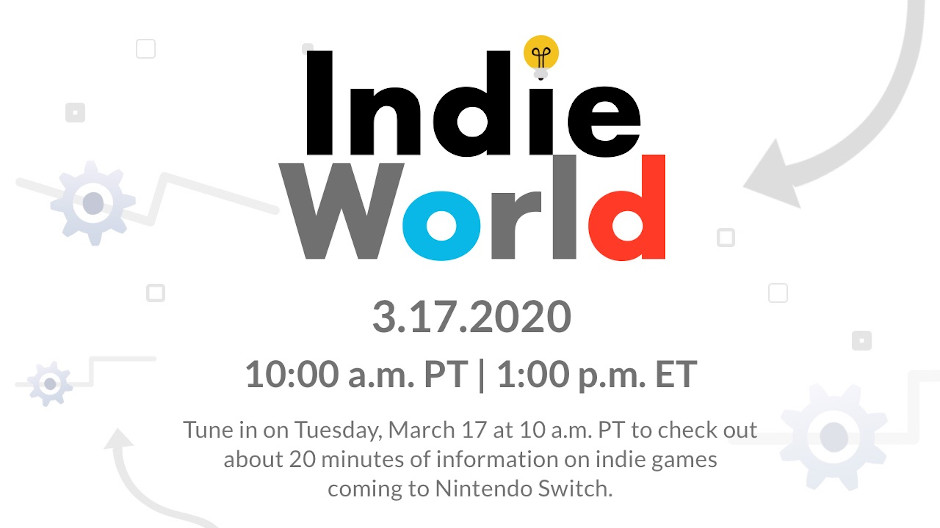 After several weeks of rumours and online debate, Nintendo's assuaged the worries of fans, now announcing an Indie World presentation coming Tuesday, March 17th 2020. Announced on Twitter, players globally can expect the spotlight event to occur at the following scheduled times:
10 pm PT
1 pm ET
6 pm GMT
19:00 CEST
Lasting roughly 20 minutes, it's said the livestream will feature info on upcoming indie games coming to the Nintendo Switch.
There's always a ton of unexpected smaller titles revealed during these presentations, many of which end up being exclusive or timed exclusive to the platform. That said, there are many games and releases fans are awaiting confirmation and release dates for.
Nintendo continues to lean into the newer "Indie World" branding, which began in 2018, but only made its way West starting August of 2019. Beforehand, we had had Nindies Showcases and Indie Highlights.
As to what we may be able to expect in this presentation, as indie development continues to grow, and developers continue to flock to the Nintendo Switch, these Indie Worlds become more and more uncertain. Each time we have a new Indie presentation, we see larger-scale projects take place, giving a good variety between what is showcased.
While we're unsure of what contents might actually be seen in tomorrow's show, the LootPots team will be looking out for more news on Silksong and CrossCode.
So make sure to be watching Nintendo's YouTube channel or Twitch at 10 pm PT / 1 pm ET / 6 pm GMT / 19:00 CEST, tomorrow, Tuesday March 17th 2020, to find out what surprises lay ahead for Nintendo fans.
Indie World - 17.03.20