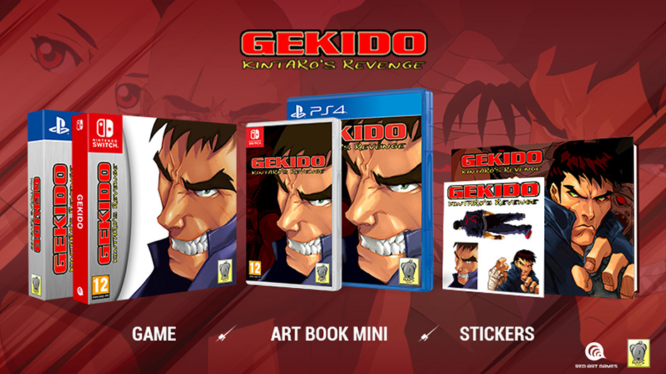 Red Art Games has revealed that they'll be publishing a short-run physical release for Gekido Kintaro's Revenge on Nintendo Switch and PS4. If that game doesn't sound familiar to you, then congratulations, you're young! The original game released sixteen years ago for the Gameboy Advance and was digitally remastered last year.
The physical version is releasing on both the Nintendo Switch and PlayStation 4 for €29.99 and €24.99 respectively. Pre-orders go on sale on May 16th 2019 and are expected to ship out later in June.
In addition to a physical copy of Gekido Kintaro's Revenge, the upcoming release is set to include a mini artbook and a sheet of stickers. As if the game itself wasn't enough nostalgia for you, everything is also packaged in a traditional Gameboy Advance cardboard box, styled and themed as if it were 2003 once again.
As part of the digital release last year, Gekido Kintaro's Revenge saw a handful of new features to spruce the game up to modern standards. Prepare yourself because you're about to read the words "new" and "updated" a lot. The updated version includes new levels, two new game modes, new cut-scenes, new soundtracks, an updated options menu with a slew of video and audio customisations, configurable controller support, and an updated resolution that can be changed back to the original on a moment's notice.
Red Art Games has stated that only 2800 Switch and 1500 Playstation 4 physical copies will ever be produced, so you better be ready to pre-order when sales go live on May 16th. If you're looking to see whether the game is for you then check out the official trailer below.
Gekido Kintaro's Revenge - Nintendo Switch Trailer