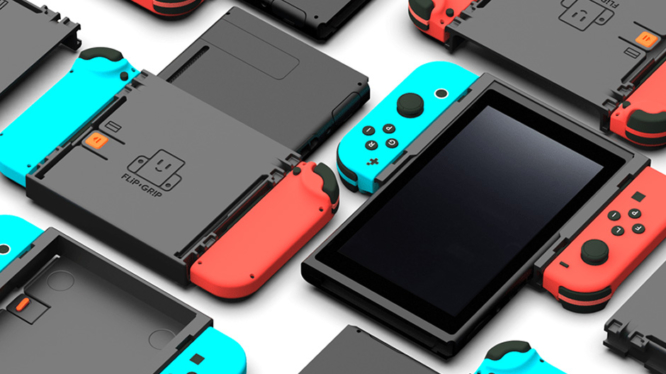 The Nintendo Switch has supported vertical screen orientation in games for some time and this method of play (lovingly referred to as "tate" mode) has become increasingly popular for arcade and shmup style titles. Unfortunately, some kind of tabletop stand is usually required to fully enjoy vertical play on Switch, often limiting the player to tabletop mode. However, one of the Switch's main selling points is its portability and playing handheld is definitely the preferred option on the go.
So, surely there's a way to have your tate and eat it too?
A problem, solved
Enter the Flip Grip, Fangamer's answer to playing vertical, arcade-style games while also enjoying handheld mode on your Nintendo Switch. In simple terms, the Flip Grip is just a piece of moulded plastic that holds the Switch's main body at a 90-degree angle (with slots on the sides for Joy-Cons). It lets you enjoy games like like Donkey Kong, Pac-Man, Ikaruga and Strikers 1945 in both handheld or tabletop mode.
The body is entirely made out of a very firm grey plastic that almost feels like metal. Everything feels snug and tight, there's no wobble or looseness with the controllers, and it doesn't feel like your console or Joy-Cons are going to slip out at any moment. When the time comes to detach your Switch, you simply pull on a little tab on the back to release the console and slide it out. As for the Joy-Cons, it's the usual press of the rear release buttons, exactly as you're used to with everything else.
The Nintendo Switch and Joy-Cons seem perfectly sized for this kind of play style, when inserted into the Flip Grip the whole contraption simply feels great in the hands. The controllers are nicely spaced apart and it actually feels quite a lot like playing a 3DS, just a bit heavier. It would be great if future Switch firmware supported vertical mode on the menus and home screen though, as craning your neck to use the system and fumbling with the rotated controls is less than ideal.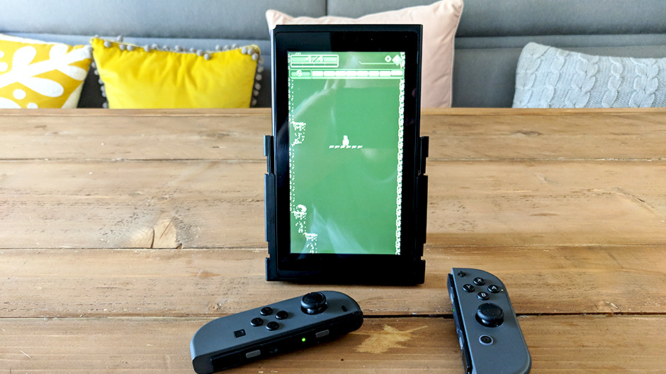 Unavoidable, insignificant problems
My only real issue with the Flip Grip as an accessory is its compatibility with the the Nintendo Switch's buttons. With the console slipped into the device there is no access to the charging port, power button or volume buttons. Accessing the Nintendo Switch's volume and power settings can still be achieved with a long press of the home button (as the included info card recommends), but blocking the physical controls is less than ideal. Despite this, you are still able to access the cartridge slot and headphone jack, so changing games and plugging in a pair of headphones is as easy as ever.
Another interesting thing to note is that the Flip Grip is also designed to work as a vertical stand. Pushing a credit card (or similar sized card) into the slot on the back allows the console to sit upright at a fixed angle and offer vertical play in tabletop mode. This makeshift kickstand does the job well enough, though I feel like an built-in, adjustable stand would have worked a lot better.
Final thoughts
Considering how well the Flip Grip has been put together, it could easily be mistaken for an official Nintendo product. It's an ingeniously simple little device that makes excellent use of the Nintendo Switch's hybrid nature. Despite some inaccessible controls and an interesting kickstand solution, the Flip Grip is a great, affordable product that fans of old arcade games and shmups will definitely find value in.