Described as a "point-and-cluck" adventure, Edgar: Bokbok in Boulzac follows the titular Edgar and his chicken as they live out their everyday lives, protecting their haven, until disaster strikes. Developed by La Poule Noire, the surreal adventure is set to launch for Nintendo Switch, Xbox One, and PC on February 26th 2020.
Edgar, after living peacefully with his chicken, is struck with a disaster that threatens his veggies and way of life. To save them, he must join the local city of light and unfold the world's greatest conspiracy. With his chicken in tow, Edgar sets out on a great adventure of caprice and whimsy.
This comic narrative game aims to astonish while providing an ultimately comfy experience. Edgar: Bokbok in Boulzac aims to create a small French town, reminiscent of the town its developers had come from.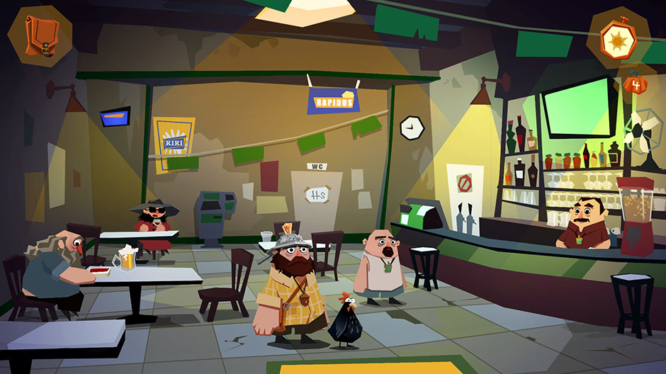 If you get too tense, you can stop at any point to talk with your hen. With a delightfully jagged and cartoony art style, the 40-year-old recluse aims to delight players an enchanting story of insane humour and a similarly absurd universe.
La Poule Noire is a studio based out of France aiming to deliver on their first 2D narrative game. Three of the studio's developers, David Duriot, Adrien Marchand, and Lucas Pierrot met while completing their Master's Degrees in 2011. Their art director enrolled in the studio two months after it was founded in February 2018.
Between the team members, there are three Masters Degrees at the National School of Video Games in France, as well as experience in programming and production at Ubisoft, and sound design at Remedy Entertainment. With this being the studio's first game, the upcoming release will be a major landmark for the company.
Edgar: Bokbok in Boulzac releases February 26th and is expected to be priced at $19.99 / €15.99. If you are interested to see what disaster befalls Edgar and his chicken, make sure to check out the teaser trailer below.
Edgar: Bokbok in Boulzac teaser trailer