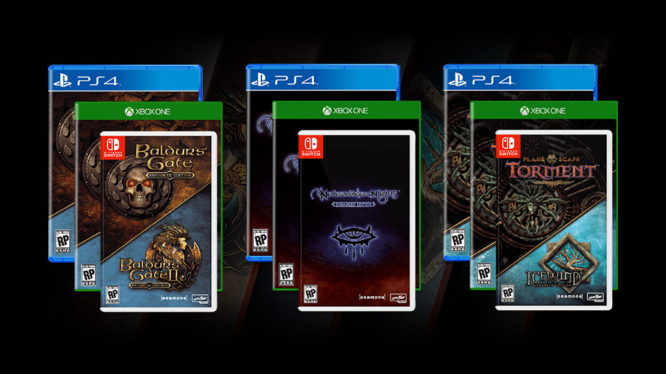 Enhanced editions of six Dungeons & Dragons CRPGs (Baldur's Gate, Baldur's Gate II, Baldur's Gate: Siege of Dragonspear, Planescape: Torment, Icewind Dale and Neverwinter Nights) will be heading to Nintendo Switch, PlayStation 4 and Xbox One this year. Skybound and Beamdog have revealed more details about the previously announced titles, including news of physical releases, pricing and release dates for fans to mark off on their calendars.
The upcoming remasters will be grouped together into three separate releases. The first, The Baldur's Gate: Enhanced Edition Pack, will feature Baldur's Gate and Baldur's Gate II, alongside the Baldur's Gate: Siege of Dragonspear expansion. Beamdog have also announced that they've developed some brand new and original content designed to bridge the two games.
The second release pairs Planescape: Torment: Enhanced Edition and Icewind Dale: Enhanced Edition, and will include all DLC for both titles. Both this pack and the Baldur's Gate: Enhanced Edition Pack are set to launch on September 24th 2019 in North America and September 27th 2019 in other territories.
The third release, Neverwinter Nights: Enhanced Edition, will arrive slightly later on December 3rd in North America and December 6th for the rest of the world. Once again, all DLC for Neverwinter Nights will be included.
Beamdog stated that all six titles have been optimised for console play, and will feature native support for high-resolution widescreen displays, redesigned UI and controls tailored specifically to console controllers. In some cases, there will even be new character customisation options and dialogue, which will give both returning fans and new players alike more than ever to sink their teeth into.
Each physical boxed edition will retail for $49.99 / €49,99, while the individual titles will be available to download through the Nintendo eShop, as well as on PlayStation Store and Xbox Games Store.
D&D Classics Enhanced Editions - on Console Fall 2019!