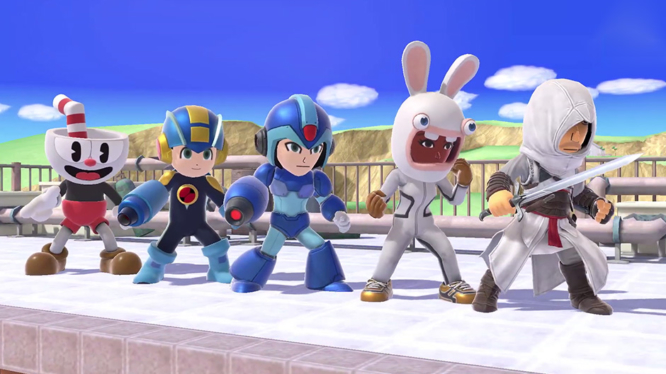 Sakurai shocked Smash fans across the internet today with the (not so shocking) news that Byleth from Fire Emblem: Three Houses would be the final character in Super Smash Bros. Ultimate's Fighters Pass. However, that wasn't all Sakurai had to share, as he also revealed that five brand new Mii Fighter costumes would also be hitting Super Smash Bros. Ultimate on January 28th (or 29th for those in Europe).
The new Mii Fighter outfits bring some much-deserved Ubisoft representation in the form of Altair (of the Assassin's Creed) and a goofy Rabbids hat from the Rayman/Rabbids franchises.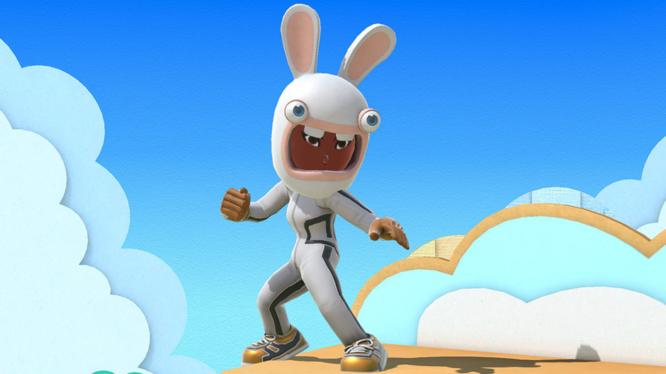 The addition of Mega Man X and Mega Man.EXE may sting a bit for Capcom fans who were hoping that rumours of Dante from the Devil May Cry series would be our 5th DLC fighter, but are a nice nod to the many versions of the Blue Bomber.
Arguably the coolest new Mii Fighter costume though, is the inclusion of Studio MDHR's indie-darling, Cuphead. Much like Undertale's Sans before him, the Cuphead Mii Fighter costume also comes with a brand new music track – Floral Fury.
If you're interested in adding these costumes to your roster, each outfit will be available to purchase for $0.75 / £0.70 / €0,80 each alongside Byleth on the 28th (US) and 29th (EU) of January 2020.
Not enough Mii costumes for you? Then you'll be pleased to hear that players who pre-order the newly announced Fighters Pass Vol. 2 will be treated to a complementary Mii Fighter outfit, "The Ancient Soldier Gear" from The Legend of Zelda: Breath of the Wild.
If you want to see the five new Mii Fighter costumes in action, then be sure to check out the official announcement trailer included below.
Smash Bros. Ultimate - Mii Fighter Costumes #5