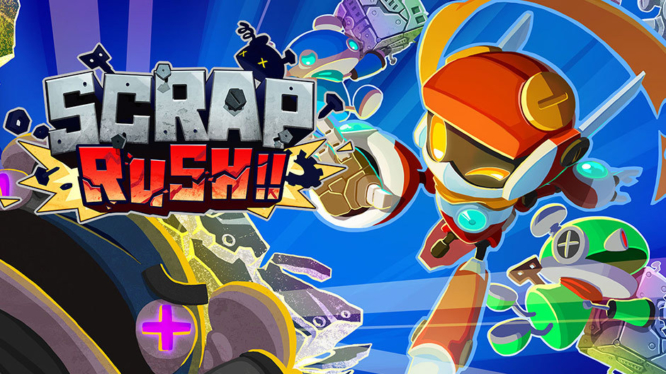 Scrap Rush!!, a Bomberman-inspired couch co-op party game, is making its way to Nintendo Switch in Summer 2019. Already available in Japan, publisher PQube are working together with developer Acquire Corp. to bring this scrap-packed title to Europe and North America for the very first time.
In Scrap Rush!!, players are pitted against each other in boxed-off arenas highly reminiscent of Bomberman. However, instead of strategically placing bombs to eliminate your opponent, the goal is to collect scrap, use that scrap to make boxes, and then push the boxes so your enemies are forced between a rock and a hard place (literally).
The promise of PvP and cooperative game modes mean that you and your friends will have a variety of ways to keep the game feeling refresh. In the first PvP mode, titled "Point Match", the goal is to collect as much scrap as possible to win. There's also Survival Match, where the goal is to be the last robot left, and Scrap Battle, which is a 2v2 mode that tasks players with collecting as much scrap as possible and bringing more to their side of the arena.
In Scrush Mode, one of the two cooperative modes, players will work together to take down 99 other enemies. A super gauge will build up over time giving access to a giant scrap block which is capable of taking out multiple enemies in one go. The last cooperative mode can also be played alone as well.
Challenge Mode is an all-encompassing mode that lets you play all of the competitive modes against AI, with each match culminating in a boss fight. All of these modes are designed with up to four people in mind.
If you're looking for a couch co-op game to play with your friends and don't want to wait until Summer, the Scrap Rush!! is also available on the Japanese eShop for purchase right now.
You can check out the Western announcement trailer in the embedded video below!
SCRAP RUSH!! - Announcement Trailer