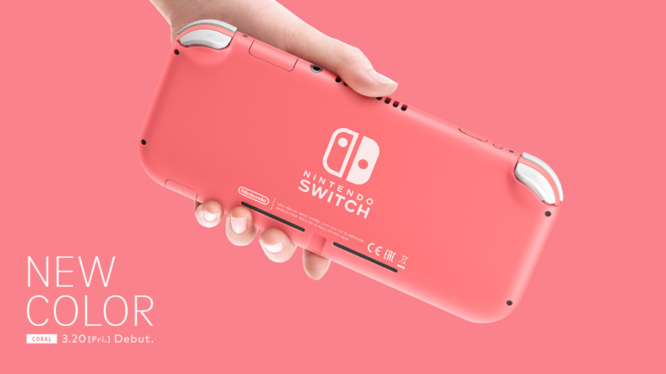 Nintendo of Japan has revealed that a new version of the Nintendo Switch Lite will be releasing on March 20th in a coral colour. While an international announcement is yet to be made, it can be expected that this new colour will launch internationally (as there have been no region-exclusive Switch Lite models so far). This is the first new colour addition since the handheld-only console launched last year and joins the yellow, grey and turquoise colour options.
The Nintendo Switch Lite, initially released in September 2019, is smaller and lighter than the original model and offers only handheld play. The Switch Lite omits key features of the original hybrid model such as the removable Joy-Cons, HD rumble, docking capabilities and any output to a TV to make a portable-only console that retails for cheaper than the regular Nintendo Switch. The Switch Lite, however, does support connectivity to wireless controllers as well so players can still enjoy multiplayer games in "table-top" mode.
Pre-orders for Japan begin on March 7th at an RRP of 19,980 ¥ + tax. An announcement for an international launch is yet to be made, so be sure to keep an eye out for this if you're interested in picking up the Switch Lite in its new coral colour.