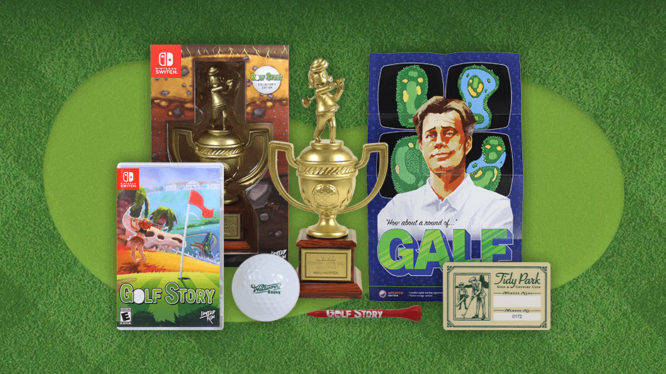 Golf Story, the NES-inspired golf adventure game, is getting another release of it's physical Nintendo Switch Collector's Edition. Originally sold (and now sold-out) through Limited Run Games, the latest batch of Collector's Editions are available to order from Fangamer's online store.
Priced at $79, the Collector's Edition of Golf Story includes:
A physical copy of Golf Story for Nintendo Switch
A full-colour booklet
A 11×17 inch GALF poster
A Wellworn Grove trophy
A membership card to Tidy Park
And last but not least, a Wellworn Grove golf ball and tee.
Developed by Sidebar Games, Golf Story isn't exactly your traditional golfing game. The game combines both golf and role-playing elements to create it's own unique take on a golfing adventure.
In Golf Story, the player's goal is to reclaim their childhood love for golf after having not played for twenty years. To accomplish this, players will explore open areas, tackle various quests, uncover secret caches, earn cash to buy new equipment, and to level up their golfing skills. The game's eight areas each contain a nine-hole course ripe for perfecting, and a vast array of minigames and challenges to take on.
The Collector's Edition is priced at $79 and is available to order right now from the Fangamer website, so if you missed out on the initial release, stop puttering around and order now before it's gone once again!