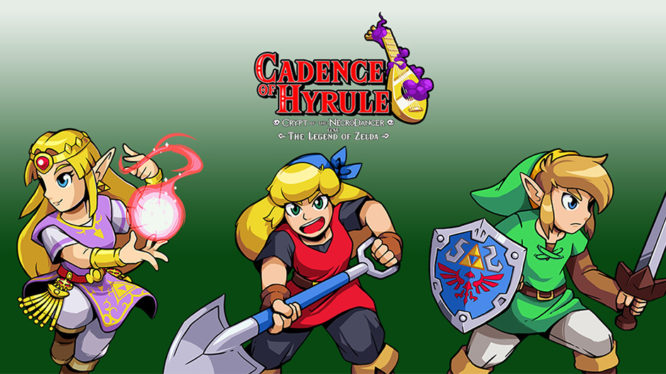 After weeks of rumoured, data-mined, and estimated release dates, Nintendo has finally spilled the beans on when both Zelda and Crypt of the Necrodancer fans can get their grubby paws on Cadence of Hyrule! Just two more days of waiting is required, as the rhythm dungeon crawler goes live on the eShop on June 13th.
A couple of weeks ago Nintendo confirmed that Cadence of Hyrule would be coming to Switch in June which had fans speculating that the game would be released during the E3 2019 Nintendo Direct. While that wasn't a bad guess, Nintendo has decided to release the indie Zelda crossover on their special Indie Day which is new for 2019.
Cadence of Hyrule was first shown off in the February 2019 Nintendo Direct and is a follow-up to the popular indie, rhythm dungeon crawler, Crypt of the Necrodancer. It's the first time Nintendo has trusted an indie developer with perhaps their most lucrative IP and the upcoming game is packed to the rafters with Zelda music, enemies and items.
The release date was revealed as part of the E3 Direct and joins both The Legend of Zelda: Link's Awakening and a Breath of the Wild sequel in what quickly became a Zelda packed presentation. Take a look at some of the gameplay you can expect in a couple of days time when Cadence of Hyrule launches, in the trailer embedded below.
Cadence of Hyrule NEW Gameplay Trailer Nintendo Switch