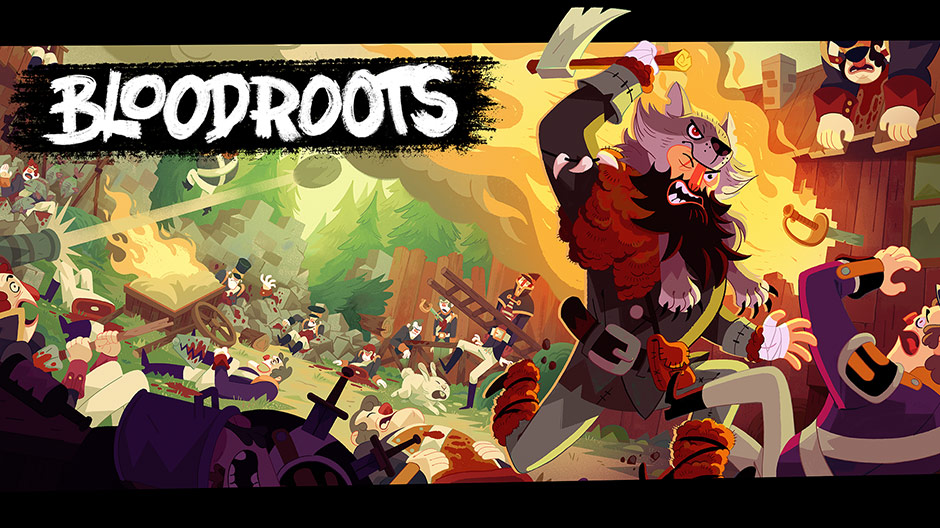 It's been a long wait for news since its announcement at last March's Nindies showcase but developer Paper Cult has finally announced a release date of February 28th for their top-down action game, Bloodroots.
In an ultra-violent take on the Weird West, Bloodroots focuses on the story of Mr. Wolf, who after being left to die, seeks to enact revenge upon his killer. Despite being alone and outnumbered, Mr. Wolf uses the surrounding environment and any tools he can find to combat bad guys with as much flair as the player has imagination. Using everything around him to make and deliver combos, from swords to ladders to carrots, anything can become an improvised tool for dealing a violent death to your foes.
Not only can the tools be used against your foes, but they can also be used to move across the world. Comprised of fully hand-crafted maps, Bloodroots promises dynamic environments for you to craft deadly combos your way. And for those players with real creative zeal, Bloodroots' in-game leaderboards promise to let you slice and slash your way to glory – or even ride a barrel over your enemies to get there.
Bloodroots is the work of Montreal-based indie development house, Paper Cult whose focus is on fast-paced action games. Their last game was the arcade party game Fat Mask, which was well received when it released in 2017 on Steam.
The studio also reported today that industry veteran Nick Suttner was hired to assist with writing of Bloodroots' characters and dialogue. Suttner is known for his work on the hilariously written Guacamelee 2 as well as the introspective story of Madeline in Celeste, the latter of which was nominated in our Staff Picks of 2018.
Bloodroots will be available for Nintendo Switch digitally on February 28th and is expected to be priced at £15.99 / $19.99 / €15.99. If you're looking to see Bloodroots in action, then be sure to check out the release date trailer included below.
Bloodroots Release Date Trailer