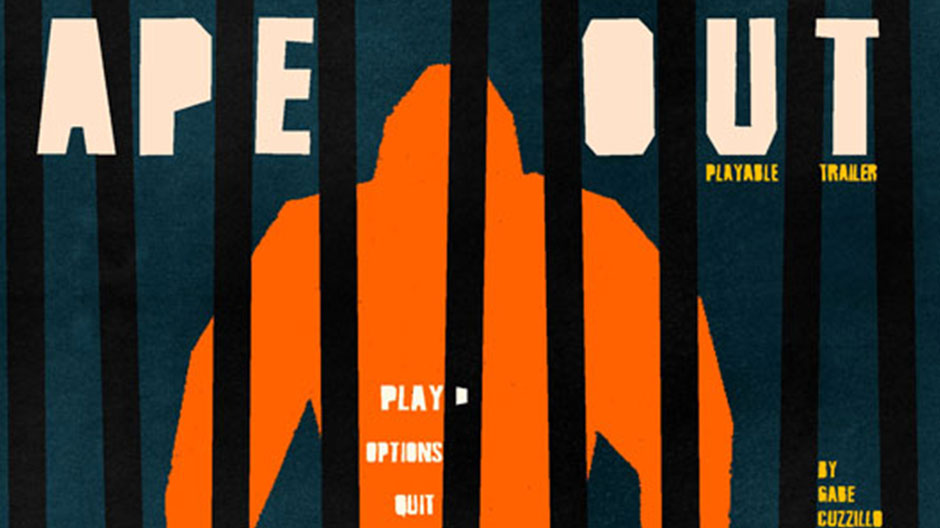 Ape Out, a stylized and rhythmic shoot 'em up from publisher Devolver Digital, is coming to Nintendo Switch and PC on February 7th, 2019.
Created by the three-man team of designer Gabe Cuzzillo, artist Bennet Foddy and sound designer Matt Boch, Ape Out has players take control of an angry ape looking to escape a variety of procedurally generated maps filled with armed guards.
In addition to simply smashing your attackers with brute force, players must also grab their captors to take advantage of their weapons or to use them as a human shield. Ape Out's procedurally generated maps are presented in a top-down view similar to other shmups like Devolver Digital's own Hotline Miami. Environments are a mixture of tight corridors and open areas filled with traps and breakable obstacles.
However, Ape Out seems to set itself apart from other games in the genre thanks to its unique art, sound direction and sense of momentum. The game's action is perfectly punctuated by Boch's jazzy soundtrack which adapts to player input, while Foddy's bold shapes and striking colour choices give Ape Out a truly distinct feel.
Ape Out comes to Nintendo Switch and PC February 7th, 2019.
Ape Out Release Date Trailer (Nintendo Switch)