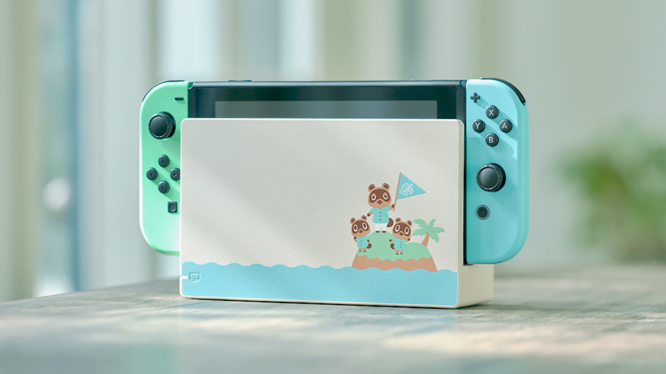 Animal Crossing fans have finally had their wish come true, as Nintendo has officially announced the very first Animal Crossing themed Nintendo Switch console. Set to launch just days before Animal Crossing: New Horizon, March 13th (US) and 20th (EU), this special edition Switch will retail for around $299.99 in the US.
Inspired by the upcoming release of New Horizons, the themed Switch console sports an island theme with sea green and light blue pastel coloured Joy-Cons controllers. In a first for Nintendo, the bundled Joy-Cons won't feature the same colour on both sides. Instead, flipping the controllers over will reveal a calming pastel white to complement their fronts.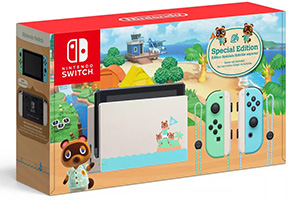 Animal Crossing: New Horizons Nintendo Switch Console
Releases: March 13th (US), March 20th (EU)
If you're sick of sliding your Switch into a black box, then the Animal Crossing themed dock will definitely be a breath of fresh air. Featuring a pastel white base adorned with a Tom and Nooklings island design, the Animal Crossing dock is nothing short of stunning.
In addition to the special edition system, Nintendo will also be releasing a brand new "Aloha Edition" Nintendo Switch carrying case. The themed case (as seen above) will be available for both the standard Nintendo Switch and the Nintendo Switch Lite… it even includes a screen protector, too!
Animal Crossing: New Horizons is the latest entry in the Animal Crossing franchise and will release exclusively for Nintendo Switch on March 20th, 2020. Join Tom Nook on his Deserted Island Getaway Package, craft tools, build, play online with up to 8 friends, and meet other villagers in this unique island experience.
The Animal Crossing themed Nintendo Switch console will release on March 13th in the US and on March 20th in Europe. Unlike Europe, a copy of the game will not be included in the US release but is available to pre-order separately in both digital and physical formats.