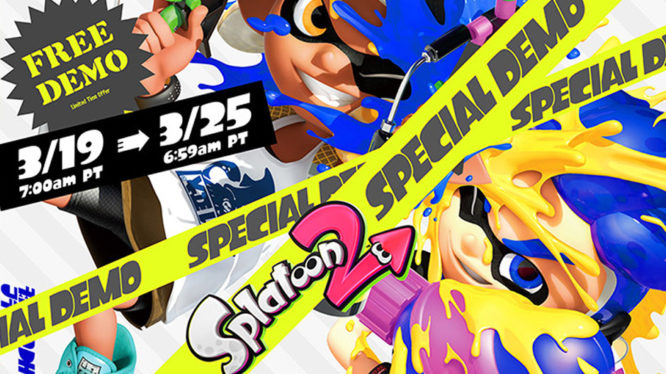 For those still on the fence about Splatoon 2, starting March 19 at 7:00 am PT and ending March 25 at 6:59 am PT, Nintendo Switch owners will be treated to a free Splatoon 2 Special Demo.
The special demo is set to feature a slew of Splatoon 2's many online modes like Turf War and Salmon Run but due to it's online nature will require Nintendo Switch Online access to download and participate. Luckily, those without a subscription will be able to download the demo and receive a free 7-day trial via a promotional email code! Nintendo has also stated users who have already redeemed the free 7-day trial when the Nintendo Switch Online service debuted, can still redeem this one as well! However, it's best to keep in mind that this service will auto-renew monthly unless disabled in the subscription settings.
Also starting March 19 at 7 am PT until March 28 at 8:59 am PT, any purchase of Splatoon 2 via the Nintendo eShop or the official Nintendo website will pack a  20% discount for users who took part in the Splatoon 2 Special Demo! Players progress will also be transferable to the full version of the game, so there has never been a better opportunity to figure out whether you are a squid or a kid!
Nintendo UK has detailed their take on this special ink-filled deal by offering 33% off of the digital version of Splatoon 2 until March 31 for those who partake in the special demo.
Splatoon 2 is the follow up to the series' debut on the Wii U, with its main Turf War mode combining third-person shooters with turf wars in ink-based combat. Although released in 2017, this title has seen many updates with a slew of new content to keep things fresh. Take advantage now, because there is no knowing if a deal this good will ever come back!